Ghipht Shop

Ghipht Shop is open
Saturdays from 6 p.m. to 7 p.m.
Sundays from 8:30 a.m. to 1:30 p.m.
Tuesday & Wednesday
5p.m. to 7 p.m.
_____________________________
Ordinary Time: February 28th
Second Sunday of Lent
Between Moses and Elias Jesus shows forth His divine glory, thus foreshadowing His resurrection. He is the Alpha and the Omega, the beginning and the end of all things. Today's Mass places before us the transfigured Lord and the model toward Whom we must tend, and our own transfiguration as the goal we must attain. We attain this goal by a profound realization of our sinfulness and need of a Redeemer; by preserving purity of body and soul; by combating our passions and carnal instincts and observing the commandments and most importantly by participating in the Mass. — Excerpted from Cathedral Daily Missal
* * *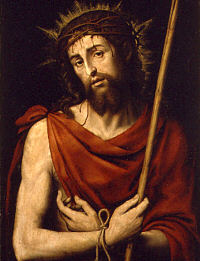 February 17th
Ash Wednesday
The time has now come in the Church year for the solemn observance of the great central act of history, the redemption of the human race by our Lord and Savior Jesus Christ. In the Roman Rite, the beginning of the forty days of penance is marked with the austere symbol of ashes which is used in today's liturgy. The use of ashes is a survival from an ancient rite according to which converted sinners submitted themselves to canonical penance. The Alleluia and the Gloria are suppressed until Easter.
Abstinence from eating meat is to be observed on all Fridays during Lent. This applies to all persons 14 and older. The law of fasting on Ash Wednesday and Good Friday applies to all Catholics who have completed their eighteenth year to the beginning of the sixtieth year.
The Ghipht Shop is Highlighing this week...
Walk with Me Lenten Rosary Bracelet
$5
If anyone wishes to come after me, he must deny himself and take up his cross daily and follow me.
For whoever wishes to save his life will lose it, but whoever loses his life for my sake will save it. Luke 9:23-24
This rosary bracelet has purple and silver beads and features silver plated cross center that is perfect for Lent season.
* * *
ONLY 3 LEFT!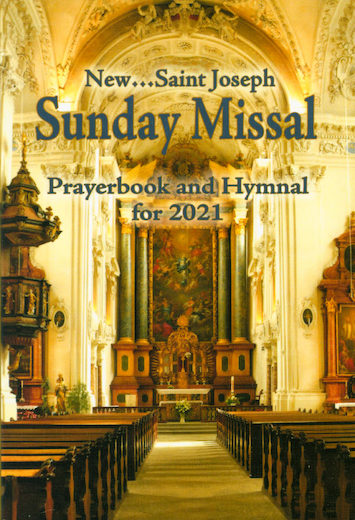 Sunday Missal Prayerbook and Hymnal for 2021
Year B $10
New St. Joseph Edition. An annual, economical missal for parishes and individuals. Contains the complete Masses for all Sundays and holy days from Advent 2020 to Advent 2021, using the NAB readings. Also includes popular hymns. In accord with the third typical edition of the new Roman Missal.
Paperback, 4.25 x 6, 672 pages.
* * *
Misal 2021
Para Todos los domingos y fiestas del ano
$12
* * *
We accept the following debit and credit cards.

* * * * * * * *
SCRIPTURE DAY BY DAY
"This is how you are to pray: Our Father in heaven, hallpowed be your name."
-- Matthew 6:9
Abba
Our Father. Just think about that for a moment. You have a Father in heaven. Not a Landlord, or a Drill Instructor, or even a benevolent Dictator, but a Father. A Father who loves you. How about taking five and just visitinbg with Him...now? Begin with praise. Hallow His Name.
* * * * * * * *
Come visit our Ghipht Shop

The Ghipht Shop is located to the right of our new church under the outside arches.
* * * *
During this difficult and challenging times we ask you to support our advertisiers in any way you can.
Our advertisers can also be seen on our website. www.stmargaretbhc.com
Stay safe,
stay healthy,
and pray.
EXCITING NEWS!
We are going into our NEW Advertising year July 2020 to June 2021
GREAT OPPORTUNITY!
There are many spaces available for new, and returning advertisers!
Please call 928-758-7117, and leave message, or e-mail rgilbert.stmm@gmail.com
Our prices are extremely reasonable and seen by many in our bulletin and on our website.
1 space for $252 for a full year!
* * *
Please call if you are interested!
* * * * *
THANK YOU!
To all our advertisers who have continued to advertise with
St. Margaret Mary.
* * *
Please prayerfully consider advertising
with us.
It is a great value for the many viewers it allows your business to be exposed to,
in print and
on the internet!
It also helps the parish with the expense of printing our bulletin.
* * *
Parishioners of
St. Margaret Mary please support
our advertisers who so faithfully advertise in our church bulletin.
* * *
Our website offers our bulletin on-line in full color, including our advertising pages.
A wonderful additional way to have our faithful advertisers be seen by our parishioners, visitors, snow birds and now everyone on the web.
Stay connected with St. Margaret Mary anytime, and from anywhere.
THANK YOU to all our advertisers for their support.
Interested in Advertising?
Call Rose Gilbert
@ 928-758-7117 please leave a message.
Informational packets about advertising with us are available to pick up in the church office
Monday - Friday
8 a.m. - 7 p.m.
or e-mail
rgilbert.stmm@gmail.com