Ghipht Shop

Ghipht Shop is open
Saturdays from 6 p.m. to 7 p.m.
Sundays from 8:30 a.m. to 1:30 p.m.
Tuesday & Wednesday
5p.m. to 7 p.m.
_____________________________
Ordinary Time: January 23rd
Third Sunday of Ordinary Time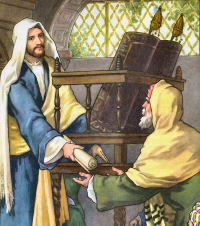 "Jesus returned to Galilee in the power of the Spirit, and news of him spread throughout the whole region. He taught in their synagogues and was praised by all" (Luke 4:14-15).
The Third Sunday in Ordinary Time is the Sunday of the Word of God, instituted by Pope Francis in 2019.
* * *
January 22 is the anniversary of Roe v. Wade and the day established by the Church of penance for abortion, has been formally named as the "Day of Prayer for the Legal Protection of Unborn Children."
The Ghipht Shop is Highlighting this week...
Wooden Prayer Bead
Let Me Live Pro-Life Rosary with Fetus Centerpiece
$5
* * *
THEY HAVE ARRIVED!
Come in for yours for the Liturgical Year C
2022 St. Joseph Sunday Missal $11
This easy-to-use 2022 Sunday Missal includes the complete Masses for all Sundays and Holy Days, along with the Easter Triduum. Features Order of the Mass in two colors and large type, people's parts in bold print for quick identification, large selection of more than 135 popular hymns and a Treasury of Prayers for Reconciliation, Holy Communion and more.
* * *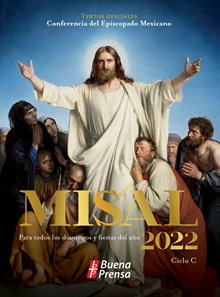 Misal 2022 - Para Todos los domingos y fiestas del año
$12
La Misa es el centro de la vida cristiana; participe activamente en ella con el Misal 2022 que contiene las Misas de los domingos y fiestas de todo el año.
Con las oraciones y lecturas de la Misa

Reflexiones para poner en práctica el Evangelio

Intenciones generales y misionales del Santo Padre para el 2022

El rosario, con los misterios luminosos, y el viacrucis
* * * * * * * *
We accept the following debit and credit cards.

* * * * * * * *
January 23rd
Therefore, let us trive to enter into that rest, so that no one may fall after the same example of disobedience.
-- Hebrews 4:11
Enter In!
Saint Paul promises us that a "Sabbath rest still remains for the people of God" (Hebrews 4:9). Seek to enter that rest, through a conscious hearkening to and obeying of the voice of God.
* * * * * * * *
Come visit our Ghipht Shop

The Ghipht Shop is located to the right of our new church under the outside arches.
* * * *
Please support our advertisers!
Our advertisers can also be seen on our website. www.stmargaretbhc.com
EXCITING NEWS!
Our NEW Advertising year is beginning
July 2021 to June 2022
GREAT OPPORTUNITY!
We are filling up fast, but we are willing to begin a 3rd page for new and returning advertisers.
Please call
928-758-7117,
and leave a message, or e-mail rgilbert.stmm@gmail.com
Our prices are extremely reasonable and seen by many in our bulletin and on our website.
1 space for $252 for a full year!
Other sizes are available, and artwork is done with your direction by Rose Gilbert.
* * *
Please call if you are interested!
* * * * *
THANK YOU!
To all our advertisers who have continued to advertise with
St. Margaret Mary.
* * *
Please prayerfully consider advertising
with us.
It is a great value for the many viewers it allows your business to be exposed to,
in print and
on the internet!
It also helps the parish with the expense of printing our bulletin.
* * *
Parishioners of
St. Margaret Mary please support
our advertisers who so faithfully advertise in our church bulletin.
* * *
Our website offers our bulletin on-line in full color, including our advertising pages.
A wonderful additional way to have our faithful advertisers be seen by our parishioners, visitors, snow birds and now everyone on the web.
Stay connected with St. Margaret Mary anytime, and from anywhere.
THANK YOU to all our advertisers for their support.
Interested in Advertising?
Call Rose Gilbert
@ 928-758-7117 please leave a message.
Informational packets about advertising with us are available to pick up in the church office
Monday - Friday
8 a.m. - 7 p.m.
or e-mail
rgilbert.stmm@gmail.com