Ghipht Shop

Ghipht Shop is open
Saturdays from 6 p.m. to 7 p.m.
Sundays from 8:30 a.m. to 1:30 p.m.
Tuesday & Wednesday
5p.m. to 7 p.m.
_____________________________
* * *
Advent: December 6th, 2020
Second Sunday of Advent

"As the journey of Advent continues, as we prepare to celebrate the nativity of Christ, John the Baptist's call to conversion sounds out in our communities. It is a pressing invitation to open our hearts and to welcome the Son of God Who comes among us to make divine judgement manifest. The Father, writes St. John the Evangelist, does not judge anyone, but has entrusted the power of judgement to the Son, because He is the Son of man.
* * *
The Catholic Year B begins
November 29th and is the 1st day of Advent.
The English Missal begins on November 29th, remember to get your 2021 missal for the new Liturgical Year.
* * *
The Ghipht Shop is Highlighing this week...
Childlike Nativity: 3 piece
$8
Simple and childlike, this three piece nativity is perfect for the niche in a child's room.
3 pieces * Porcelain * 3½" tall
Mary, St. Joseph & Baby Jesus
* * *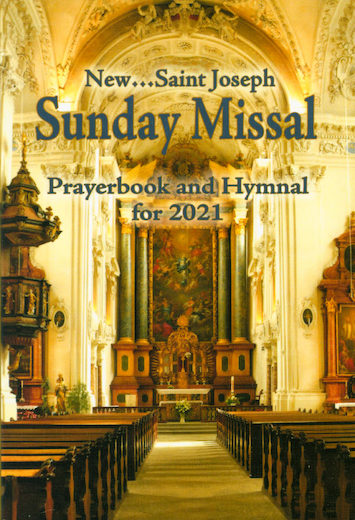 Get your Missal NOW it begins next weekend...
1st Sunday of Advent
November 29,2020
Sunday Missal Prayerbook and Hymnal for 2021
Year B $10
New St. Joseph Edition. An annual, economical missal for parishes and individuals. Contains the complete Masses for all Sundays and holy days from Advent 2020 to Advent 2021, using the NAB readings. Also includes popular hymns. In accord with the third typical edition of the new Roman Missal.
Paperback, 4.25 x 6, 672 pages.
* * *
Misal 2021
Para Todos los domingos y fiestas del ano
$12
* * *
We accept the following debit and credit cards.

* * * * * * * *
SCRIPTURE DAY BY DAY
For he rescues the poor when they cry out, the oppressed who have no one to help. He shows pity to the needy and the poor and saves the lives of the poor.
-- Psalm 72:12-13
Compassion
Open your heart this Advent. Let justice roll like a river. Feed the homeless, visit the sick, listen to the little ones; be merciful to all. As Mother Teresa said, "Do small things with great love."
* * * * * * * *
Come visit our Ghipht Shop

The Ghipht Shop is located to the right of our new church under the outside arches.
* * * *
During this difficult and challenging times we ask you to support our advertisiers in any way you can.
Our advertisers can also be seen on our website. www.stmargaretbhc.com
Stay safe,
stay healthy,
and pray.
EXCITING NEWS!
We are going into our NEW Advertising year July 2020 to June 2021
GREAT OPPORTUNITY!
There are many spaces available for new, and returning advertisers!
Please call 928-758-7117, and leave message, or e-mail rgilbert.stmm@gmail.com
Our prices are extremely reasonable and seen by many in our bulletin and on our website.
1 space for $252 for a full year!
* * *
Please call if you are interested!
* * * * *
THANK YOU!
To all our advertisers who have continued to advertise with
St. Margaret Mary.
* * *
Please prayerfully consider advertising
with us.
It is a great value for the many viewers it allows your business to be exposed to,
in print and
on the internet!
It also helps the parish with the expense of printing our bulletin.
* * *
Parishioners of
St. Margaret Mary please support
our advertisers who so faithfully advertise in our church bulletin.
* * *
Our website offers our bulletin on-line in full color, including our advertising pages.
A wonderful additional way to have our faithful advertisers be seen by our parishioners, visitors, snow birds and now everyone on the web.
Stay connected with St. Margaret Mary anytime, and from anywhere.
THANK YOU to all our advertisers for their support.
Interested in Advertising?
Call Rose Gilbert
@ 928-758-7117 please leave a message.
Informational packets about advertising with us are available to pick up in the church office
Monday - Friday
8 a.m. - 7 p.m.
or e-mail
rgilbert.stmm@gmail.com