Ghipht Shop

Ghipht Shop is open
Saturdays from 6 p.m. to 7 p.m.
Sundays from 8:30 a.m. to 1:30 p.m.
Tuesday & Wednesday
5p.m. to 7 p.m.
_____________________________
First Sunday of Advent
November 27, 2022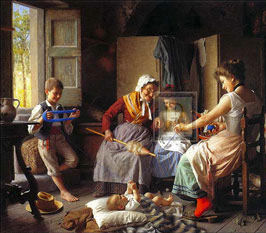 The easiest way to keep our families from celebrating Christmas ahead of time is by keeping Advent. Children love to anticipate. When there are empty mangers to fill with straws of small sacrifices, when the Mary-Candle is a daily reminder on the dinner table, when Advent hymns are sung in the candlelight of a graceful Advent wreath, children are not anxious to celebrate Christmas before time. That would offend their sense of honor.
Older children who make Nativity sets, cut Old Testament symbols to decorate a Jesse tree, or prepare costumes for a Christmas play will find Advent all too short a time to prepare for the coming of Christ the King. (Christmas to Candlemas in a Catholic Homeby Helen McLoughlin)
* * *
The Ghipht Shop will be closed this
Tuesday & Wednesday,
November 22nd &23rd, 2022 for Thanksgiving.
The Ghipht Shop is Highlighting this week...
Living Advent Devotional Book
$3
This Living Advent Collection of gifts will help you remain vigilant with a servant heart during the Advent season.
This Living Advent Devotional Book features verses from the Advent readings of each day to help Catholics receive, reflect on, and resolve to follow the Word of God.
* * *
They have arrived at the Ghipht Shop!
2023 St. Joseph Sunday Missal $10
This easy-to-use 2023 Sunday Missal includes the complete Masses for all Sundays and Holy Days, along with the Easter Triduum. Features Order of the Mass in two colors and large type, people's parts in bold print for quick identification, large selection of more than 135 popular hymns and a Treasury of Prayers for Reconciliation, Holy Communion and more.
Misal 2023 - Spanish
$15
La Misa es el centro de la vida cristiana; participe activamente en ella con el Misal 2023 que contiene las Misas de los domingos y fiestas de todo el año.
Con las oraciones y lecturas de la Misa
Reflexiones para poner en práctica el Evangelio
Intenciones generales y misionales del Santo Padre para el 2023
* * *
Prayer for Peace for the World
St. Michael Wallet Sized Laminated Holy Card
English & Spanish
$.50
Prayer to SAINT MICHAEL
Saint Michael the Archangel, defent us in battle. Be our protection against the wickedness and snares of the devil.
May God rebuke him, we humbly pray; and do thou, O Prince of the heavenly host, by the power of God, cast into hell Satan and all the evil spirits, who wander through the world seeking the ruin of souls. Amen.
* * * * * * * *
We accept the following debit and credit cards.

* * * * * * * *
November 27
After this I heard what sounded like the loud voice of a great multitude in heaven, saying: "Alleluia! Salvation, glory, and might belong to our God."
- Revelation 19:1
Alleluia!
There are many who do not accept God's reign, and do what they can to forestall it. Yet to Him alone belongs Power, Salvation, glory, and might. You are wise to trust in Him. Today, add your voice to the throng in heaven, and sing. "Alleluia! Salvation, glory, and might belong to our God."
* * * * * * * *
Come visit our Ghipht Shop

The Ghipht Shop is located to the right of our new church under the outside arches.
* * * *
Please support our advertisers!
Our advertisers can also be seen on our website. www.stmargaretbhc.com
OUR NEW ADVERTISING FISCAL YEAR JULY 2022 - JUNE 2023 IS BEGINNING!
SPACES ARE AVAILABLE!!
We offer great values advertising with us.
Our parishioners are very loyal to our advertisers, and will support your business.
GREAT OPPORTUNITY!
Please call
928-758-7117,
and leave a message, or e-mail rgilbert.stmm@gmail.com
Our prices are extremely reasonable and seen by many in our bulletin and on our website.
1 space for $252 for a full year!
Other sizes are available, and artwork is done with your direction by Rose Gilbert.
* * *
Please call if you are interested!
* * * * *
THANK YOU!
To all our advertisers who have continued to advertise with
St. Margaret Mary.
* * *
Please prayerfully consider advertising
with us.
It is a great value for the many viewers it allows your business to be exposed to,
in print and
on the internet!
It also helps the parish with the expense of printing our bulletin.
* * *
Parishioners of
St. Margaret Mary please support
our advertisers who so faithfully advertise in our church bulletin.
* * *
Our website offers our bulletin on-line in full color, including our advertising pages.
A wonderful additional way to have our faithful advertisers be seen by our parishioners, visitors, snow birds and now everyone on the web.
Stay connected with St. Margaret Mary anytime, and from anywhere.
THANK YOU to all our advertisers for their support.
Interested in Advertising?
Call Rose Gilbert
@ 928-758-7117 please leave a message.
Informational packets about advertising with us are available to pick up in the church office
Monday - Friday
8 a.m. - 7 p.m.
or e-mail
rgilbert.stmm@gmail.com