Ghipht Shop

Ghipht Shop is open
Saturdays from 6 to 7 p.m.
Sundays from 8:30 a.m. to 1:30 p.m.
Tuesday & Wednesday
evenings 5 to 7 p.m.
___________________________________________
Ordinary Time: July 1st
Thirteenth Sunday of Ordinary Time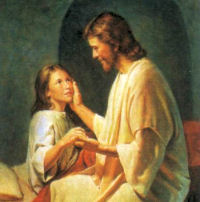 Taking her by the hand he said to her, "Tal'itha cu'mi"; which means, "Little girl, I say to you, arise." And immediately the girl got up and walked (she was twelve years of age), and they were immediately overcome with amazement. And he strictly charged them that no one should know this, and told them to give her something to eat (Mk 5:41-42).
* * *
The Ghipht Shop is Highlighting this week...
God Bless America Cross
$5
This cross is the perfect way to share your patriotism. Includes a ribbon hanger, the bold wording God Bless America and the Bible verse Psalm 33:12 - Blessed is the Nation whose God is the Lord.
Military Rosaries
$20 each
Army, Navy, Marines
& Air Force
Our military rosaries make a perfect gift for those serving, at home or overseas. Each rosary contains a pardon crucifix, St. Benedict medal and military branch medal that includes an image of St. Michael the Archangel on the back. Trust in God and pray the Rosary for worldwide peace.
* * *
2018 St. Joseph Sunday Missal
$10 NOW $5
This is the most popular and economical ANNUAL Missal for parish participation. Contains the complete Masses for all Sundays and Holydays from the beginning of Advent through the Solemnity of Our Lord Jesus Christ, King of the Universe.
Now includes such popular hymns as "I Am the Bread of Life," "All Are Welcome," "Eye Has Not Seen," "We Walk By Faith," and "Taste and See."
* * *
St Joseph Sunday Missal
$50
The one all-inclusive, complete and permanent Sunday Missal. It contains all the official Mass prayers for Sundays and Holydays that are now in use throughout America. It includes the complete three-year cycle of Sunday readings (Years A, B, C), and all the prayers from the Sacramentary, as well as the presidential prayers. These prayers are repeated for each cycle of readings to make this Missal easy to use and to eliminate unnecessary page turning. Catholics of all ages will truly treasure this excellent Missal destined to last a lifetime. Calendar to year 2106. Special features: Mass themes and biblical commentaries, people's parts in bold print, and more than 167 popular hymns. 1,586 pages.
We also have the Weekday Missal, Volume I & Volume II
The 2 Volume Set is $100.00
* * *
Daily Roman Missal, 7th Ed., Standard Print (Bonded Leather, Burgundy)
$150.00
According to the Roman Missal, Third Edition
First Published over 15 years ago, the Daily Roman Missal is an essential resource for anyone who wants to grow closer to the Eucharist. An ideal traveling companion and a great fit for your glove box, briefcase, backpack, or carry-on, the DRM is a complete source for following the Mass, studying it more closely, and reflecting on its profound beauty and grace.
This new Seventh Edition includes the responses and liturgical texts from the new English translation of the Third Edition of the Order of Mass; all prayers, antiphons, and other texts for the seasons of the liturgical year; the Proper and Commons of Saints; Masses for the Dead; and many Ritual, Votive, and other Masses. It includes all readings (New American Bible with Revised New Testament) from Sunday and weekday Masses, the Proper and Commons of Saints; and many from the Ritual, Votive, Various Needs, and Masses for the Dead. All this plus over 200 pages of devotions and prayers complete this dignified, one-volume hand missal.
Daily Roman Missal Hard Cover is available for $120
We also have the Misal Romano Diario
All years A-B-C and Daily Masses
$180.00
* * *
We accept the following debit and credit cards.

* * * * * * * *
Minute Meditations for Each Day"
I do not ask You to take them out of the world, but to protect them from the evil one.
--- Jn 17:15
PRAYER: My Savior, held by Your hand I can easily ascend to the heights of a holy life. Stay at my side that I may never fail to obtain this.
* * *
Come visit our Ghipht Shop

The Ghipht Shop is located to the right of our new church under the outside arches.
* * * *
Our new Advertising Fiscal Year is coming up!
July 2018-
June 2019
Call and get your space(s) for the next coming year in our bulletin!
EXCITING NEWS!
We will be adding a 3rd 1/2 page to our advertising pages. So now we have more spaces to offer for more advertisements!
Please call if you are interested!
We have a
NEW BIGGER LOOK
for our Advertising Pages.
We are hoping that the NEW BIGGER SIZE will be easier to read for our parishioners and better exposure for our faithful advertisers.
* * * * *
THANK YOU!
To all our advertisers who have continued to advertise with
St. Margaret Mary.
* * *
Please prayerfully consider advertising
with us.
It is a great value for the many viewers it allows your business to be exposed to,
in print and
on the internet!
It also helps the parish with the expense of printing our bulletin.
If interested please pick up an informational packet in the office or e-mail me at the address below.
Parishioners of
St. Margaret Mary please support
our advertisers who so faithfully advertise in our church bulletin.
Our website offers our bulletin on-line in full color, including our advertising pages.
A wonderful additional way to have our faithful advertisers be seen by our parishioners, visitors, snow birds and now everyone on the web.
Stay connected with St. Margaret Mary anytime, and from anywhere.
THANK YOU to all our advertisers for their support.
Interested in Advertising?
Call Rose Gilbert
@ 928-758-7117 please leave a message, you can pick up an informational packet in the church office
or e-mail
rgilbert.stmm@gmail.com